Furniture Warranty
Blanket 5 Year Protection on Your Furniture
Sit back and relax. Virtually any defect in the construction or craftsmanship of your furniture purchase is protected with United Furniture Warehouse's (UFW) Blanket 5 Year Furniture Protection Plan. You're covered right from the day of purchase, including the costs of parts and labour. There are no hidden fees, charges, or deductibles for any work performed.
Construction Protection
Every day you put furniture through a rigorous routine. UFW provides you with comprehensive coverage on defects in the construction of your furniture or mattress resulting from normal, daily use. This coverage includes items with moving parts, springs, stitching, zippers, and buttons. With this Plan, your furniture will look and feel just like new.
Accidental Stains and Marks
Go ahead and live your life to the fullest. Whether you have little ones, like to entertain, or simply want your furniture to remain in pristine condition for years to come, investing in this Plan makes perfect sense. UFW provides you with single-incident coverage for accidental stains from water, food, beverages, and cosmetics. Contact us as soon as the accident occurs, and we'll repair your furniture for you.
Rips and Tears
Cracking, peeling, rips, and tears on all fabrics, including vinyl, bonded, and faux leathers, may occur over time. This Plan covers a single-incident* repair of surface fabrics, and also extends coverage to wood furniture components. UFW is the only Canadian retailer to offer full coverage** on bonded leather for cracking and peeling.
Full Coverage Details
UFW's Blanket 5 Year Furniture Protection Plan covers a single-incident* repair of:
Coverage
Leather
Bonded and Faux Leather, Fabric
Wood and Wood Type Finishes
Electronic components
—
All moving parts
Mechanism failure
—
Defective construction
Faulty joints and springs
Foam resiliency up to 50%
—
Food and beverage stains (including grease)
Accidental human and pet biological stains
Pen ink, craysons, markers
Nail polish and cosmetics
Fabric failure
Cracking and peeling finish
Failed stitching
—
Seam separation
—
Accidental rips and cuts
—
Accidental cigarette burns
Changes in luster
—
—
Heat and liquid rings
The following are not covered under warranty:
Wear and tear
Abuse and neglect
Physical damage from pets
Colour fading from sunlight
Damage from corrosive materials
*Single-incident repair means a single incident of the above coverage. Multiple stains that occur at the same time are considered a single incident. Should you need to make claim, you must do so at the time the incident occurs. Otherwise coverage may not apply.
**Bonded leather coverage only applies to Furniture Protection Plans purchased on or after October 9, 2012.
With UFW's Blanket 5 Year Furniture Protection Plan, you get long term peace of mind at an affordable price. Take a look at the complete terms and conditions of coverage.
As-Is Purchases
All as-is furniture, appliance, and electronics purchases carry the same warranty as new merchandise with the exception of existing defects and/or damage on the item (such as scratches, dents, or missing pieces), which will be noted on your invoice at the time of purchase. Extended warranties can also be purchased for as-is items, but will exclude coverage of existing defects. UFW will only cover up to the purchase price of the item, not its original value.
Making a warranty claim
We hope your product won't need repair, but if it does The Brick has made requesting service as easy as possible.
Make a claim ›
Manufacturer warranty coverage ›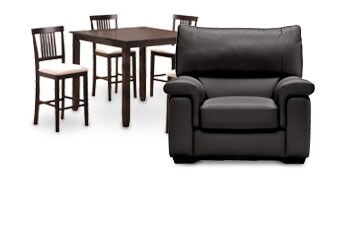 Protect Your Furnishings
You can get this incredible furniture coverage even when shopping online. Look for the option to add UFW's Blanket 5 Year Furniture Protection Plan during the checkout process.
Please Note: When purchasing a furniture protection plan online, the plan will cover all furniture products in your order.
Shop Furniture
Look for "Add a Warranty" when you begin your online checkout.