Clermont 2-Piece Coffee and End Table Package
Delivery and pick-up details
Exact delivery costs and selection of delivery/pick-up date is available in checkout.
Delivery Includes:
Delivery and placement in your home. Learn more about our delivery process.
Basic assembly of your item (except items marked "Customer Assembly Required").
Disposal of packing material for most items.
Pick-up Includes:
Free shipping to almost any store of your choice (selected in checkout).
Specialty Installation and Assembly:
We offer professionally licensed installation and assembly services at competitive prices in many communities in Canada. Call 1-888-933-8786 to check if these services are available in your area.
---
Item Code:
CLERM-CE
This package includes:
1 x Clermont Coffee Table with Casters $839.94
1 x Clermont End Table $829.94

Full retail value of this package: $1,669.88

Items available to be purchased separately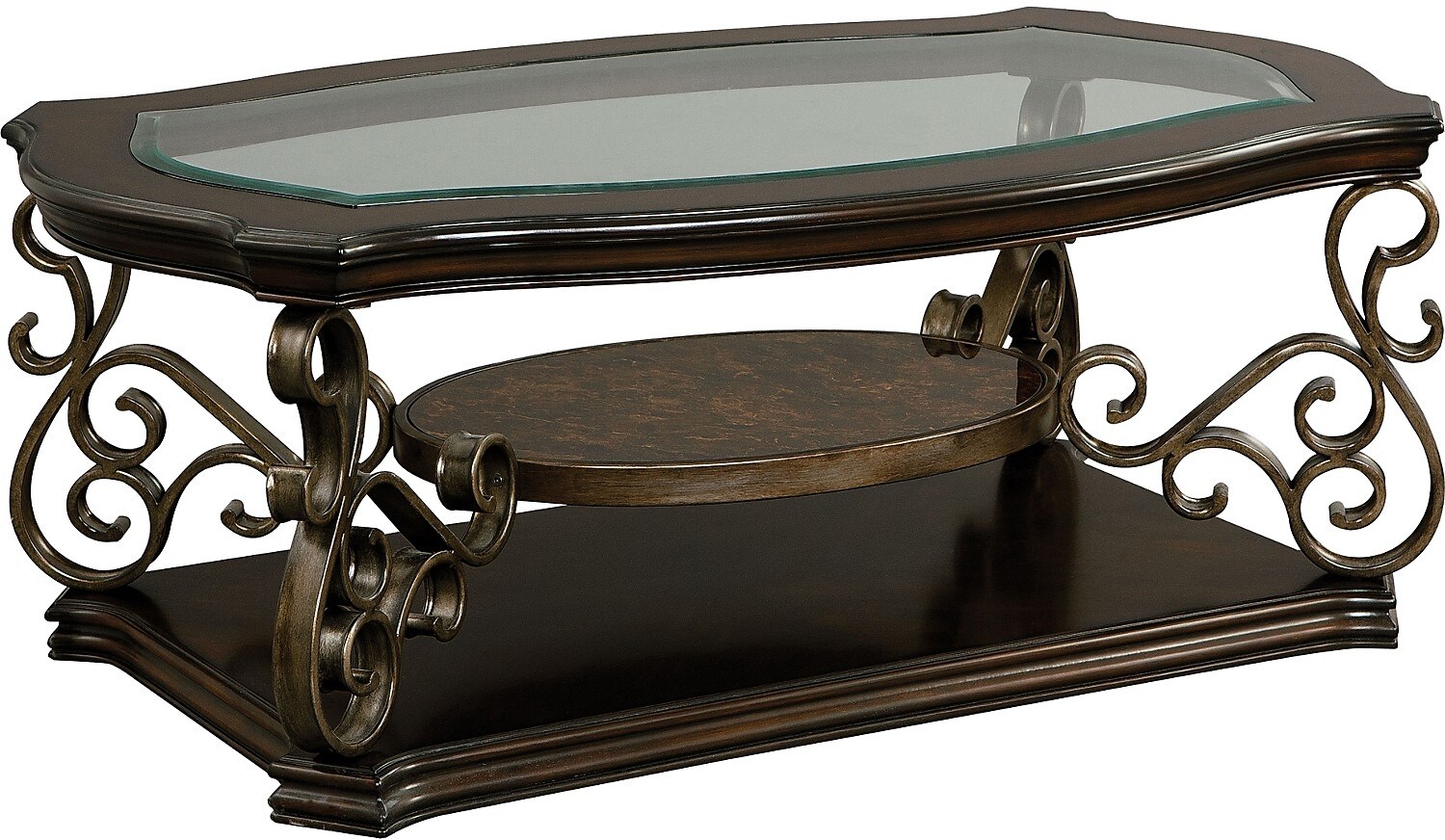 Item Code:
CLERM-CT
Product Dimensions:
Width:
52''
Height:
20''
Depth:
32''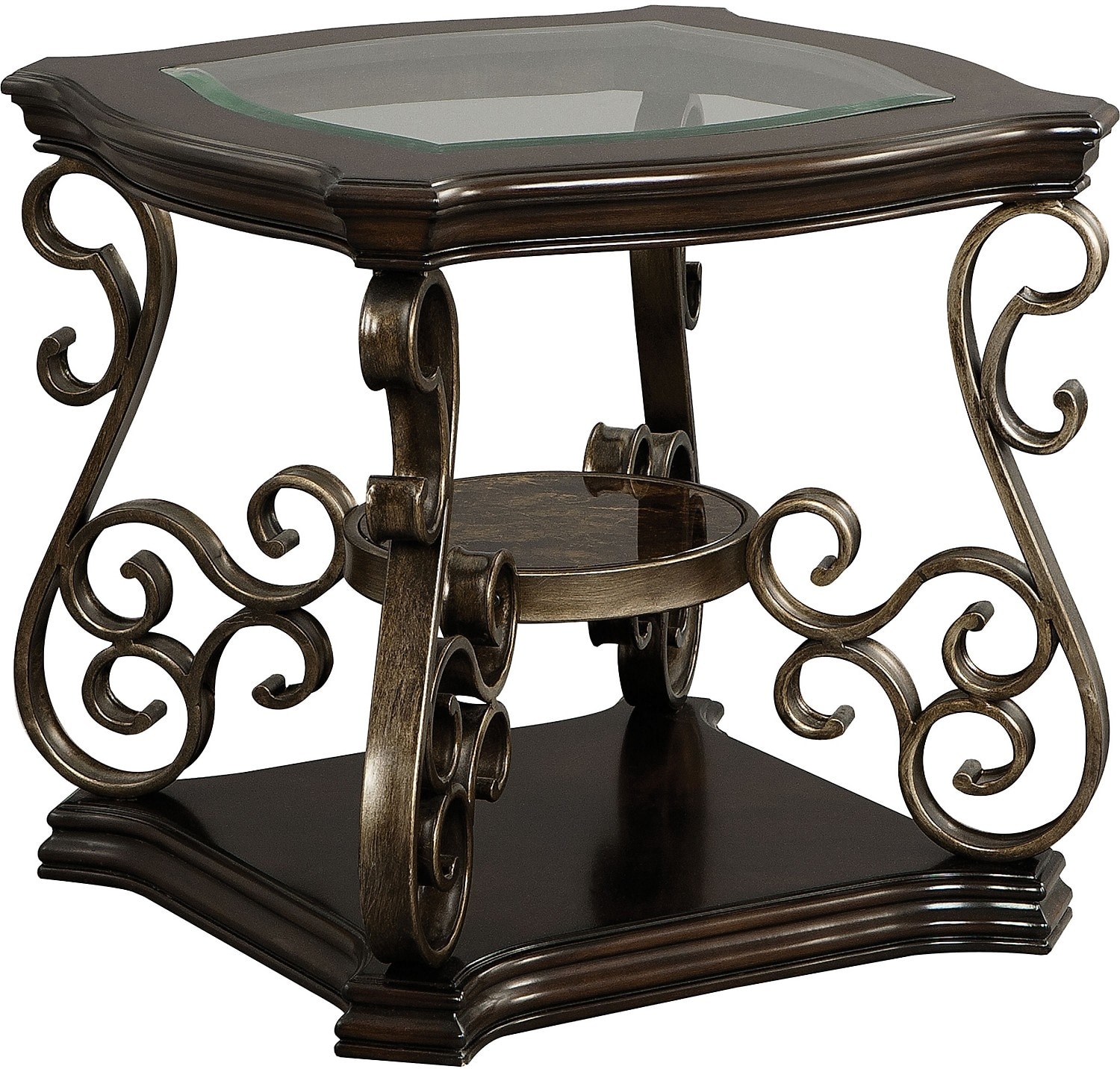 Item Code:
CLERM-ET
Product Dimensions:
Width:
26''
Height:
24''
Depth:
26''
Other items and packages in this collection
Product Overview
Enjoy the quaint style this Clermont coffee and end table package adds to your living space. Each table has a bronze-tone metal scrolled frame and golden brown colour which have been hand-burnished to enhance their old-world design. For convenience, the tables have caster wheels so they can be moved between rooms with minimal effort. What's more, their beveled-edge glass tabletops provide an exquisite, yet durable, surface for your everyday items.
Key Features
Beveled-Edge Glass Tabletop- Adds to the romantic feeling of the table while providing a durable surface.
Burnished Bronze-Tone Metal Frame- Creates visual interest and enhances the table's charm with flat-strapped scrolls.
Caster Wheels - Allow the coffee table to be moved quickly and conveniently, making it ideal for use with home theatres and reclining sofas.
Old-World Design- Adds a majestic feeling to any room.
Hand-Burnished Golden Brown Colour- Exudes warmth while adding timeless elegance to existing decor.
Dimensions
Coffee Table: 52" W x 32" D x 20" H
End Table: 26" W x 26" D x 24" H
Materials and Construction
Table Frame: Ash Wood and Metal
Ash wood has a prominent grain that resembles oak and boasts interesting, interwoven figures. It is widely used in furniture making for its ability to be steam-bent into eye-catching pieces. Meanwhile, metal is an inherently strong material used to create solid furniture frames. Commonly found in a variety of home furnishings, metal is easily recycled, making it an environmentally friendly choice.

Tabletop: Beveled Glass
A strong material designed to support a great deal of weight, glass has a light, thin design that boasts an elegant finish.

Finish: Cherry Veneer
Veneers are created by cutting a thin layer of wood and laying it on top of construction-grade material, which provides a remarkable wood texture and finish to furniture. As an added benefit, veneers won't warp, crack or split over time and often create unique markings on the furniture's finish.

Finish Colour: Hand-Burnished Golden Brown
This golden brown colour has been hand-burnished to enhance the old-world feeling of the table while adding warmth and elegance to any room.